Back to Overview
April 05, 2017
National survey reveals how Americans pronounce "caramel"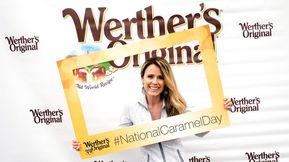 CARMEL, IN – April 5, 2017 – Today is National Caramel Day, and Werther's Original is celebrating by asking caramel lovers nationwide how they pronounce their favorite treat: ker-uh-muhl or kar-muhl. The national survey results are in and ker-uh-muhl takes the sweet honors with 57 percent of Americans using the three-syllable pronunciation. Now, the iconic caramel brand is visiting caramel lovers in Carmel, Indiana, to celebrate National Caramel Day. The city will officially become Caramel (ker-uh-muhl), Indiana for the day in honor of the Werther's Original National Caramel Day celebration.
"We wanted to celebrate National Caramel Day with the residents of what some might consider caramel's namesake town. Of course, Carmel, Indiana was the perfect place," said Meredith Suffron, director of marketing for Werther's Original. "Regardless of how caramel fans pronounce it, we hope they celebrate with Werther's Original today."
Starting at 11 a.m. EDT, candy lovers in the Carmel, Indiana area will have the chance to celebrate National Caramel Day with Werther's Original in the city's Arts & Design District. Attendees can enjoy fun and games, treats (Werther's Original, of course!) and plenty of sweet prizes.
Caramel lovers nationwide can share how they pronounce "caramel" on National Caramel Day, April 5, by using #GreatCaramelDebate on Facebook, Instagram or Twitter.
Join the Werther's Original National Caramel Day conversation on Facebook, Instagram and Twitter by following hashtag #WerthersXCandyLand, and for a chance to win exclusive caramel product giveaways, follow Werther's Original on Facebook, Twitter and Instagram.
Northeast
• 57 percent ker-uh-muhl
• 43 percent kar-muhl

Midwest
• 43 percent ker-uh-muhl
• 57 percent kar-muhl

South
• 64 percent ker-uh-muhl
• 36 percent kar-muhl

West
• 58 percent ker-uh-muhl
• 42 percent kar-muhl

About Werther's Original
Candy-maker Gustav Nebel first introduced his delicious, iconic caramel recipe in 1909 in the small European village of Werther, Germany. Using only the best ingredients — real butter, fresh cream, white and brown sugars, a pinch of salt and a lot of time — he created a treasure worthy of being wrapped in gold and named the candy Werther's Original in honor of his village. Crafting this smooth, creamy caramel became a family tradition handed down through generations.
Today, Werther's Original comes in several varieties, from hard, chewy, soft and filled caramels, to sugar-free caramels and even caramel popcorn. Headquartered in Germany and Chicago, people all around the world enjoy the unique taste of Werther's Original.
About the survey
The survey was conducted by Ipsos eNation from March 10-13, 2017 to a nationally representative sample of more than 1,000 adults in the United States.