Back to Overview
March 03, 2017
Werther's Original introduces new Cocoa Crème Soft Caramels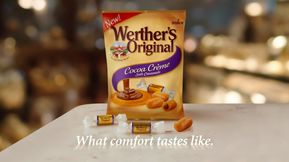 CHICAGO – March 6, 2017 – A January 2017 Ipsos eNation survey of more than 1,000 American adults found that 44 percent of Americans chose caramel as their favorite candy flavor to combine with chocolate, followed by mint at 19 percent. As the authority in all things caramel, Werther's Original announced the brand's newest variety: Werther's Original Cocoa Crème Soft Caramels. Pairing the rich, creamy caramel fans know and love with a smooth, luxurious cocoa crème filling, this first-time flavor combination is the Werther's everyone has been waiting for.
"Caramel and chocolate has always been a favorite flavor combination, but consumers have never experienced it like this," said Meredith Suffron, Director of Marketing for Werther's Original at Storck USA, the brand's parent company. "Made with real butter, fresh cream and rich cocoa, Werther's Original Cocoa Crème Soft Caramels have a taste so delectable, they're a treat that's truly 'werth it!'"
Most Americans (73 percent) like to indulge in candy because they think it's a treat worth enjoying, and 34 percent say that it offers them a moment of escape from the day's activities. Werther's Original Cocoa Crème Soft Caramels are the newest way to experience the variety of smooth, rich and creamy caramels handcrafted with the finest ingredients from Werther's Original. It is the perfect way to enjoy a small moment of escape every day.
In fact, 53 percent of Americans prefer a candy treat that offers a flavor combination. With other fan-favorite combinations like Coffee Caramel and Caramel Apple, Cocoa Crème now gives Werther's Original lovers a flavor experience for every occasion.
Werther's Original are available in grocery stores and retailers nationwide, including new Cocoa Crème, hard, chewy, soft and filled caramels, as well as sugar-free caramels and caramel popcorn.
About Werther's Original
Candy-maker Gustav Nebel first introduced his delicious, iconic caramel recipe in 1909 in the small European village of Werther, Germany. Using only the best ingredients — real butter, fresh cream, white and brown sugars, a pinch of salt and a lot of time — he created a treasure worthy of being wrapped in gold and named the candy Werther's Original in honor of his village. Crafting this smooth, creamy caramel became a family tradition handed down through generations. Headquartered in Germany and Chicago, people all around the world enjoy the unique taste of Werther's Original, with its Soft Caramels variety winning Product of the Year in 2017 by the Consumer Survey of Product Innovation. For more information, visit www.Werthers-Original.us or check them out on Facebook at Werther's Original US.