Back to Overview
February 05, 2018
CANDY LAND: The Werther's Caramel Edition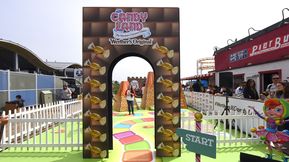 SANTA MONICA, Calif. — April 5, 2018 —This National Caramel Day, Werther's Original is sending caramel fans back to a simpler, sweeter time with an immersive brand experience on the Santa Monica Pier. Together with Hasbro, the iconic caramel brand has created CANDY LAND: The Werther's Caramel Edition Game, a life-sized, caramel loaded version of the classic board game.
In this caramelized version, participants adventure through the Caramel Popcorn Mountains, discover caramel surprises in the Werther's Woods and navigate a bridge over the Caramel Crème Lagoon, before getting their fill of Werther's sweet treats — including vanilla crème, cocoa crème, hard, chewy, soft, coffee and filled caramels — at the Caramel Castle.
Television star and host Mario Lopez along with his wife Courtney Mazza and children Gia and Dominic, teamed up with Werther's to indulge in the confectionary festivities in honor of the caramel holiday.
"When I heard about the life-sized CANDY LAND: The Werther's Caramel Edition Game, I was thrilled two of my happy childhood favorites were combining in such a cool, fun way," the actor said.
Meredith Suffron, Werther's Original director of marketing, is aware of the powerful influence of nostalgia. "In today's rapidly changing world, it's comforting to know that some things are still as good as they've always been. With the help of Hasbro's CANDY LAND, we are excited to bring together classic favorites: sweet candy and family fun," said Suffron. "As a brand with a rich heritage and passion for caramel, National Caramel Day is a major holiday for us, making it the perfect time to give our consumers an interactive way to experience our full portfolio of products."
"We're excited to work with Werther's Original to bring the sweet fun of CANDY LAND to even more people," said Jonathan Berkowitz, senior vice president of global marketing for Hasbro Gaming. "Our goal at Hasbro is to provide families with gaming experiences that are fun to play, fun to watch and fun to share. The combination of the digital game and the life-sized CANDY LAND experience that Werther's Original has created will delight fans of all ages."
Caramel lovers everywhere can experience CANDY LAND: The Werther's Caramel Edition Game online by visiting CaramelDay.com. This digital destination features an online version of the life-sized game board, allowing users to learn Werther's Original fun facts as they explore different candy regions. Post-event, this digital destination will also feature a 360-degree video of the on-site pop-up to further bring the experience to life. Fans should check it out soon since the digital game will only be available for 30 days after launch.
Join the Werther's Original National Caramel Day conversation on Facebook, Instagram and Twitter by following hashtag #WerthersXCandyLand, and for a chance to win exclusive caramel product giveaways, follow Werther's Original on Facebook, Twitter and Instagram.
ABOUT WERTHER'S ORIGINAL
Candy-maker Gustav Nebel first introduced his delicious, iconic caramel recipe in 1909 in the small European village of Werther, Germany. Using only the best ingredients — real butter, fresh cream, white and brown sugars, a pinch of salt and a lot of time — he created a treasure worthy of being wrapped in gold and named the candy Werther's Original in honor of his village. Crafting this smooth, creamy caramel became a family tradition handed down through generations.
Today, Werther's Original comes in several varieties, from hard, chewy, soft and filled caramels, to sugar-free caramels and even caramel popcorn. New to the product line, Werther's Original recently launched two delicious flavors: cocoa crème and vanilla crème soft caramels. Headquartered in Germany and Chicago, people all around the world enjoy the unique taste of Werther's Original.
ABOUT HASBRO
Hasbro (NASDAQ: HAS) is a global play and entertainment company committed to Creating the World's Best Play Experiences. From toys and games to television, movies, digital gaming and consumer products, Hasbro offers a variety of ways for audiences to experience its iconic brands, including NERF, MY LITTLE PONY, TRANSFORMERS, PLAY-DOH, MONOPOLY, BABY ALIVE and MAGIC: THE GATHERING, as well as premier partner brands. Through its entertainment labels, Allspark Pictures and Allspark Animation, the Company is building its brands globally through great storytelling and content on all screens. Hasbro is committed to making the world a better place for children and their families through corporate social responsibility and philanthropy. Hasbro ranked No. 1 on the 2017 100 Best Corporate Citizens list by CR Magazine, and has been named one of the World's Most Ethical Companies® by Ethisphere Institute for the past seven years. Learn more at www.hasbro.com, and follow us on Twitter (@Hasbro & @HasbroNews) and Instagram (@Hasbro).